Well I was right about not having as much time for knitting once I started work. Once I get home sometimes I'm pretty tired and just can't bring myself to pick up the needles. That is going to change though - I want to get some of my projects worked up. I've only done a few rows on my second Kyoto sleeve. Here it is: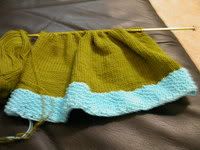 I really like the blue trim with the green. I just hope I have enough of the blue yarn for the sash. When I placed my Elann order I didn't plan on using the blue for the ends of the sleeves. Here's what I got in that order: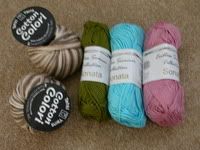 I actually planned on making two Kyotos, one with the green & blue, and the other with the pink and Tahki Cotton Colori for the sash. Now, the pink looks to be earmarked for another project (more later).