I finished my second Kyoto sleeve. Now I'm blocking them, and will do the rest of the blocking in the next couple of days. I was thinking of picking up the stitches for the sash, but I've decided to go ahead and just knit it then seam everything together. This Kyoto sweater will be my FIRST (yes, first!) completely finished piece, other than some scarves etc. I have been too scared to finish up any of the other projects I had going.
I'm going to hit the craft store before going to work this evening. I've joined a Shrug-A-Long so I need to get the yarn for that. I'm going to make the Ribbed Shrug from the new IK: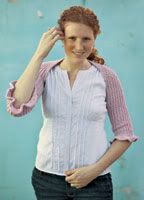 I was going to use some Endless Summer Collection Sonata that I got at Elann, but I worked up a swatch last night and didn't like the way it was looking. So I'm going to get the yarn called for in the pattern: Patons Katrina.