I finally got around to ordering from
Everything Australian
. I usually place an order every couple of months, or whenever I run out of Vegemite. I used up the last bit of Vegemite at the end of last year, but since we were moving up here to Virginia, I decided to wait and order once we got settled. Well, a couple of months later...I finally did it. I love that they use UPS and it arrives in a couple of days!! So here are my goodies: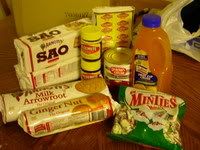 I ordered some Sao Biscuits (like crackers, but not quite); Ginger Nut and Milk Arrowroot Biscuits, a.k.a. "cookies" (great for dunking in tea or coffee); Vegemite (two small jars and some travel packets); Minties; Sliced Beetroot (the beets over here just don't pack the same punch); and some orange Cordial (kind of like Kool-Aid, but in liquid form).
So for all you Aussies living over here in the States, if you really crave some good old fashioned Aussie food head over to Everything Australian, or even try
About Australia
. Both are great businesses.
Anyway, on the knitting front, I placed my first order with
Knitpicks
last night. I ordered some Sock Memories in Gladiolus; orange Andean Silk; and Simple Stripes in Snapdragon. I'm going to use this to make my first pair of socks (hopefully). I'll post a pic when it comes in the mail.