I hope everyone had a great long weekend. I went camping with my husband and some friends; a great time was had by all. And we weren't eaten by bears (unfortunately, we heard last night that a couple of people were mawled by bears at other parks over the weekend...not good)! Here is where we slept for 4 nights: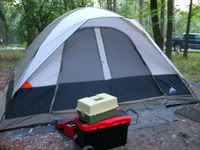 In knitting news: I got a wonderful goody package from Amy at
Good to be a Girl
If you visit her blog you can see what an effort she put in to the packages that she sent out to celebrate her blog-a-versary. It was nice to come back from my weekend to find this stuff waiting for me on the doorstep.
I also got my Knitpicks order - I will post pics soon. I can't wait to get knitting with the yarn I ordered. I think I mentioned in an earlier post what I bought. I'm hoping to get back into some serious knitting over the next few days. Work has really kept me from getting down to it. I want to finish up my Kyoto too!!!