I got some great mail today. I got my stitch markers from Cara at
Dorky Best Friend
. Take a look at what she sent me:
Along with the stitch markers, she sent me some cool writing paper - which does always come in handy for me.
And here is a close up of the stitch markers. Check out the cute little yarn charm: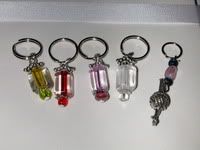 Finally, some knitting content. I finally got restarted on my IK shrug for the Shrug-A-Long, and here is where I'm at: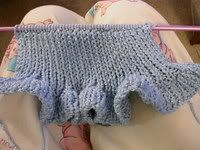 I want to get it finished by next week because we're heading up to Niagara Falls. We're actually going to be camping, but I figure we can go out for a nice dinner sometime and I have a cute blue dress this will go with.