WARNING: PHOTO INTENSIVE POST!
I'll get it out the way before I start on the real stuff I want to talk about. I worked on my shrug when I got back from my trip, but it's only a meager 10 inches long. So now there's only 29 inches to go before I do the little ruffle at the other end. It's slow going so I'm going to have to cast on for something else tonight, I just don't know what.
And now on to the TRIP! My husband and I went to Niagara Falls, Canada. I had a lot of fun...he had a little bit of fun (when he went fishing!). We compromised and decided not to stay in a hotel and camp out (I think about Memorial Day, I'm hooked on camping) at
Riverside Park Motel & Campground
. It was a great place...clean and pretty quiet. We're glad we arrived on a Tuesday and were leaving Saturday because by Friday the place was filling up with people.
Here are some photos: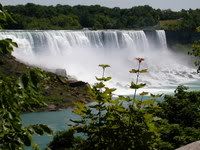 The American Falls...so pretty!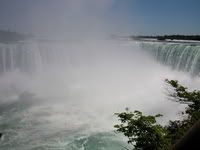 Horseshoe Falls, Canada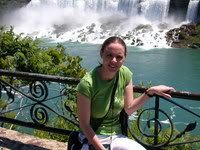 Obviously this is me and not my husband!
We bought ourselves an Adventure Pass (
Niagara parks
), which gave us entry to Journey Behind the Falls, Maid of the Mist (my favorite), the Butterfly Conservatory, and the White Water Walk (which we didn't end up doing). Now, everything except the conservatory meant we got wet - very wet!
First came the Journey Behind the Falls. You go in and they give you a big yellow poncho (read: garbage bag) to keep your clothes from getting wet. You go down an elevator and you can walk down to these little portals that actually put you behind the rushing water of the falls. The really fun part though is when you go onto the observation deck.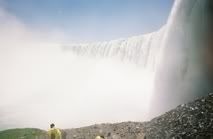 View of the falls from the deck.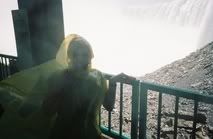 Me, getting a little blown away and wet. The mist and wind was crazy!
After that bit of fun we went to the Maid of the Mist. You are given a blue poncho (again, read: garbage bag) and put on a boat to be taken right up close to the Horseshoe Falls.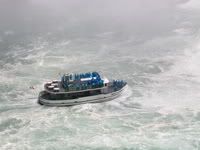 The boat: Maid of the Mist (we weren't on this one at the time, I took the photo so I could show people where we went.)
There is supposed to be a photo of me on the boat modeling my lovely blue poncho, but the darn thing isn't working right and keeps coming up tiny, no matter what I do. I'll work on it later.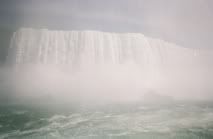 Gorgeous!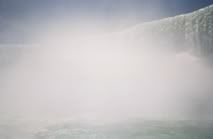 Double gorgeous!
So I had a great time. I didn't take any knitting with me because the last time I went camping everything started to smell like smoke and I didn't want that to happen to my knitting. Turns out we didn't need to make a fire all that often since the weather was great to us.