Since the last time I posted a photo of my shrug it wasn't very big, and here it is now - still doesn't seem to be moving that fast. It's only about 7 inches long, that means I've still got 32 inches to go. The ribbing makes it slow going, but I think it's looking good: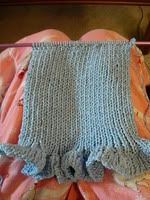 I have my eye on starting another IK shrug, the
Minimalist Ribbon Shrug
. I even found some yummy yarn (below) that would work for the pattern:

Isn't it yummy? Who can resist colors like Jellybean, Spring Meadow and Kaleidoscope!