Here is the pic of my Knitpicks order. I can't wait to get working with some of this yarn: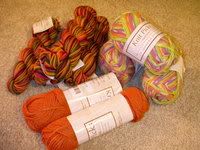 I stumbled across
Unky Moods
, which is where I got the little icon that says I'm "short" today. Unfortunately, I'll be short for the rest of my life - I barely hit five foot two.It's free to sign up and so cute. I actually found it by following the icon on
Whimsy's blog
.
I went to the dentist yesterday...three fillings and a cleaning later I emerged with a numb mouth and sore teeth. So when I get home from work this afternoon I'm going to knit, knit, and knit. I haven't been doing much lately because of work and other stuff and I really want to get going. I might cast on for my clapotis. Everything on tv is probably reruns so I won't have to worry about missing anything.
I got my Bead-It 2 pal info so I'm hitting the shops today for some beads. I'm not sure what I'm going to get. I also got my SP5 info and also my secret pal has contacted me a couple of times. This is going to be so much fun. I love to send gifts to people!