I got my first secret package the other day, and boy was I spoilt!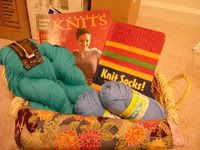 I just put it in the basket so I could take a decent pic, but my goodies were wrapped in the material at the front. I'm not sure what I'm going to make with it, but maybe a handbag or something. It's been a while since I've sat at the sewing machine for anything other than hemming pants (a constant chore since I'm short!)
I also got a back issue of Interweave Knits, probably my favorite knitting magazine right now. I got
Knit Socks!
by Betsy McCarthy. I've wanted to jump in to sock knitting for a while now, so now I can. NO MORE EXCUSES! Well, I do have to get some dpns, but that won't take but a minute.
Then I got some lovely yarn...Cascade 220 and some nice blue sock yarn. I can't wait to turn this into something fantastic.
So thanks SP!