I am knitting...or I have been. I'm up to repeat 11 of 25 of my Midwest Moonlight. I finally managed to post a photo. It really is coming along nicely and I love it. I'm also planning on making another scarf from the same book - Scarf Style - for a friend's birthday. I'm thinking of using Cascade 220 but my friend might prefer something a little bit softer. Any ideas?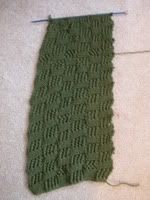 I've had a long day so I'm not sure if I'll keep working on my scarf. I've been at
Uni of Mary Washington
all day for summer preview day. I had to register for my classes etc, but man was it HOT!!! I think the heat more than the early morning rise (I was up at 6:30 am, way early for me!) has made me a little tired. It is such a pretty campus, UMW, so take a look if you like. I made sure I linked it. I will have to post a photo of me in my new t-shirt I bought today to signify my becoming a bonafide student at a four-year college.