What do you do when you've finished a knitting project? Start another one of course! So that's what I did. I cast on for the Midwest Moonlight scarf from the lovely
Scarf Style
. This is one amazing book. I love so many of the patterns that I joined the Scarf Style KAL.
Here is a close up of my new scarf:
And here is just the first 16 rows. The pattern is these 16 rows done 25 times!! I have 24 lots to go...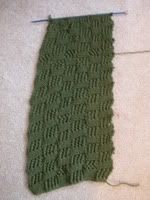 The yarn is actually a dark green from Elann - Peruvian Highland Wool. This is actually the third time I've started this scarf today. I started with a different yarn, made a mistake and had to start over. The third start was with this wool and it looks much better.