I've just joined another gift exchange - this one needles.

I figured I would get it in before our self-imposed budget kicks in. Luckily it shouldn't be for at least another month.
I think SP5 is going along nicely. I have my next package ready to go out. I had to wait for a couple of things to arrive. I think I'm going to browse the participants sites and see how everyone else is getting spoilt since I all ready know how I'm getting spoilt and how my pal is doing.
I had to rip out my Midwest Moonlight posted in one of my recent posts. I learnt an important lesson: no knitting after 11pm!! It seems being tired or not totally "with it" isn't the best state to be in when knitting. So here is an updated look at my scarf. I'm almost done with 4 repeats of the pattern, which calls for 25 repeats.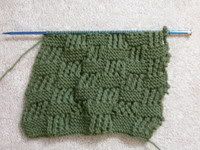 I think it's looking quite nice. And I'm using a dark green Peruvian wool from Elann.