I can't believe how fast this year is going. In 28 days I start back at college. I'm both nervous and excited.
I have some knitting updates too. I finished my Midwest Moonlight scarf and I'm really happy with it. I haven't had a chance to model it yet - I do this when my hubby isn't home and I can set up the tripod. He would think I'm an idiot if he saw me doing this. :) I also received my second SP package today (see below). I got some nice soft yarn, which is good for washcloths; a pretty smelling bar of soap, and some DPNs, which I needed to start my first pair of socks. So thanks SP!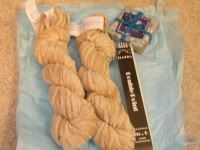 The yarn is a lovely chenille and the color is pale peach.
I also got some yarn I won on Ebay, which I'm thinking of using for my clapotis. The color is just gorgeous!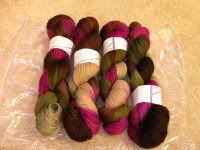 Lorna's Laces Shephard Sport 100% superwash wool. I got four skeins, each 200 yds.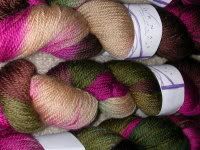 Close-up: the color is #70 Vera and it is so pretty.
Since I finished my scarf, I cast on for the one skein wonder today and it's coming along nicely. I'm a little worried about picking up stitches, but we'll see how it goes. I'm not there yet so I'm not going to panic until I actually reach that part of the pattern!
I'm also excited because tomorrow I'm heading to my first knitter's meeting. I haven't been able to attend until now, so I'm looking forward to it.