I was about to post about how disappointed I was (even changed my Unkymood) that I couldn't make it to last night's knitting meet-up in Waldorf. I was all set to go, but then I had to work a bit later than usual and I was so tired. I
swear
I'm going to the next one no matter what! Anyway, I'm not disappointed anymore and this is why...I heard a familiar thump at my door, which means the mail is here. Look at what I got: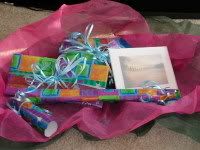 My needle exchange pal sent me this. That's three pressies wrapped up so nicely for me!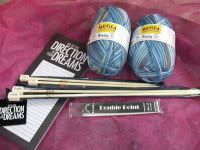 This is what was inside: two pairs of needles (size 7s and 8s), a set of DPNs (#2s), a cute little note pad and magnet that says "Go in the Direction of Your Dreams", and some yarn - Regia sock yarn.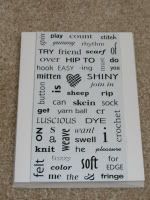 There was also a card that was a little heavy. This is what I found when I opened it - cute word magnets with a knitting theme!!!
So that was it right? Nope, I checked my actual mail box and found another package stuffed inside.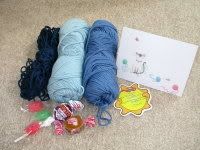 It was the promised left over yarn from Danni of
Knitting Sunshine
. She made the most amazing
wave skirt
. I loved her skirt so much I emailed her to tell her just that, and she offered to send me what she had left from the Brown Sheep Cotton Fleece she used. How nice is that? I just love knitters - they're so sweet. Anyway, now I have to get my other colors, all blues because I think that would look great, and get going.
And since this is a photo-happy blog, here is what my one skein wonder looks like. All I have to do is the sleeves and ribbing (picking up stitches, argh!) and I'm done.
I'm using straight needles for now because I'm not very circ savvy, but to pick up the ribbing I will use circs.