I start full-time classes at
UMW
on Monday. I wanted to get the house clean from top to bottom before that so I would only have to maintain it during the semester, and I've pretty much done that. This is why I feel good. I also feel good because I got my last SP5 package today: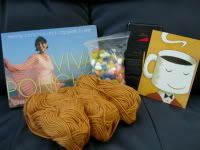 At the back is VIVA PONCHO, which I've wanted for a long time (thanks SP!). I also got some yummy 100% wool yarn in a warm brown color (called Allspice on the packaging). There are only three skeins in the pic but I got WAY more than that. I also got a bag of jellybeans and some chocolate to make hot chocolate from the recipe on the back of that cute card!
Like I've said before, I've never had a bad experience with these secret swaps. I have signed up for SP6 because I need something to look forward to through all my book work at school!!
I have been knitting, if only a little bit. I started a scarf from Scarf Style for a friend of mine. She wanted a really long scarf for her birthday. She knows she's getting it, but doesn't know what it's going to look like (and she doesn't read my blog). It's my first cable pattern!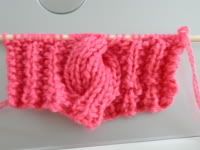 I still haven't started my wave skirt because I don't have the right needles! I'm thinking about getting the interchangeable needle set. My LYS by my school (it's just around the corner, how cool is that?) gives 10% off for UMW students.