I finished my first one skein wonder last night (note I said 'first,' which means there will be more). I have to admit that I was beginning to wonder if it was going to turn out right, until I finished my first sleeve and seamed it. Then it started to look like it was supposed to. Here is the pic of the WIP. The finished pics will be up on my blog soon: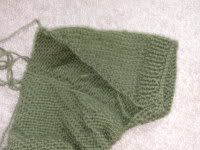 I used the same yarn as I did for my Midwest Moonlight scarf, green Peruvian Highland wool from Elann. It was supposed to be used for a ribby cardi, but I changed my mind.
In blog news, I followed
Deety's
easy blog button tutorial and made my very own blog button. So if you'd like, go ahead and use it (save it to your computer of course!). I'm planning on making some more when I get the time.
I also started to gauge for my clapotis using the Lorna's Laces yarn (see previous post) I got off Ebay. I'm not sure it's going to work out though, it might be too fine. Has anyone used a finer yarn than called for in the pattern?