I finally got our spare bedroom turned into a decent workspace/craft room. I went to Ikea a couple of weeks ago and got a couple of bookcases to hold everything. Once I put them together I made DH stabilize them to the wall. So here is what it looks like now:
The desk is also from Ikea.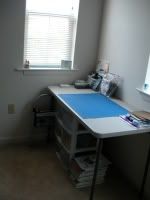 This is my craft table where I do my scrapbooking, stitch markers etc. I needed something a little sturdier for my sewing machine which is why I bought the table in the first photo.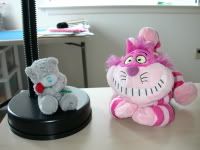 These little guys are going to keep me company. The little bear was a gift from my sister back home and the cat (of course, the cheshire cat!) is something I bought from work.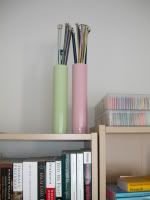 I got these vases from Ikea as well for $1.99 and thought they were a nice way to hold my needles all in one spot!
I was digging through some of my things and came across some old albums. My dad used to have a great record collection, and these are the ones I saved from that before it somehow disappeared...and yes, that is an ALF album. I even had an ALF doll!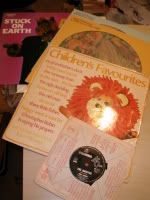 A couple of my all-time favorite albums were the singles. One is a
Rolf Harris
number called "Monster." Those of you familiar with Australia or Australian culture may have heard of him. The other one is a song called "Granddad." I wish I had a record player so I could play this one. My granddad died when I was 8 years old (I'm 27 now) and I miss him all the time. We'd play this song and sing it to him any time he would visit us. It basically says "Granddad we love you," over and over.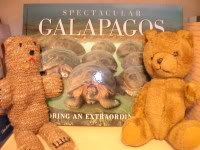 And if you didn't notice, I have a few furry, non-living, friends on my bookshelves. Here is Brownie and Coco enjoying a book on the Galapagos (man, I would love to go here!). I got these two friends when I was very young.