I don't know about you, but I love it when I finish something, especially if it's finished on time. Below are photos of the Vintage scarf from Scarf Style that I've made for my friend's birthday next week. The scarf isn't so "vintage" because I went and used a different yarn for the project.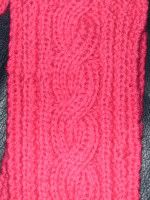 Close-up of the cable pattern - very easy to do, my very first cable!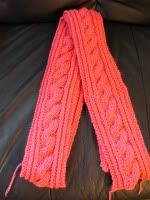 If this looks a little short, don't despair - it's actually doubled over. It's over 80 inches long, per my friends request for a really long scarf. I just have to weave in the ends now.
DETAILS
Pattern: Vintage Velvet from Scarf Style (using different yarn).
Yarn Used: Knitpicks Palette 100% Wool(color: petal), double-stranded. I used four balls.
Date started: August 25, 2005 (just four days before I started college, probably not a good idea!)
Date finished: September 25, 2005 - four whole days before my friend's birthday.
Now I have to find another project to start. Yes, that was the only project I had on the needles so I wouldn't be tempted to stray. I do have another scarf I have to make for the Scarf Me! project, but that's not due until early November I think. I should probably get it started though. My friend's little girl (the child of the scarf friend above) has picked out probably the most complicated project in the Wrap Style book for herself. I promised to make her a wrap/poncho and voila! That's what I have. Of course, I have to resize it and use different yarn, but I'm going to do it. Her birthday is at the end of November and then there's Christmas - I figure I'll aim for one or the other as a finish date. I've been looking on Ebay for some yarn, but might just use Elann's Peruvian Highland wool.