Things should calm down next week at school now that I've quit working during the week. I should've know it wouldn't be workable to do so. This weekend was the first time I got to pick up my needles since D.H's surgery on Sept 1st. I don't have a photo, but my friend's scarf is now a little over 30 inches long with about 10-11 repeats of the cable pattern. I think it's looking really nice.
One of the great things about the University of Mary Washington is that there is a
yarn shop
just down the street. Lucky me! Yesterday between classes I took a walk down there to get some yarn for my
Scarf Me
pal. The photo below is what I came out with: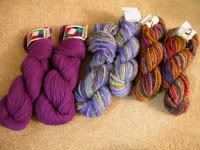 The purple yarn is 50% wool and 50% llama, which is what I will be using for the scarf I send to my Scarf Me recipient. Hmmm, but there is more yarn in the photo. What is to be done with that? Of course, that is for me! The other four skeins are all Koigu FANCY, which is 100% wool but boucle. I couldn't decide which color I liked more, the blue or the multi so I got two of each. At $7.99 each it was so bad, plus this store gives UMW students a 10% discount!!!!!!!!!
I'm thinking of using the Koigu to make the
My So Called Scarf
. I might have to double strand it, but each skein only has about 100 yards so I'm not sure if I'll have enough. I will check it out though once I'm almost done with this other scarf.