I have been knitting between studying. I finally got tired of wrestling with imperfect and passe compose in French. Unfortunately there is no escaping them because it's something I really need to learn!
Anyway, knitting has kept me sane. I've been working on a mock-up of the project I'm planning for my friend's little girl and I think the changes I've made are going to be fine. I'm waiting on the yarn I ordered from Knitpicks and then I can get started on her poncho from Wrap Style.
I've also been working on the scarf for my
Scarf Me!
pal. I had a few false starts. I picked a pattern, I didn't like the pattern. Then I wasn't sure about the yarn, but then stuck with what I had originally chosen (the purple yarn from a past post). So here are some photos.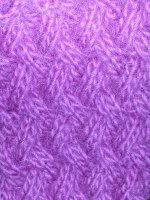 A close-up of the pattern. It's just a generic cable pattern from a book in my knitting library that uses a multiple of 6 stitches.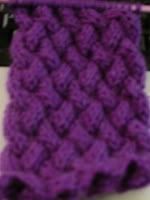 It's a little longer now, but it looks just the same. I'm actually falling in love with the color of this yarn. I'm not usually a purple kind of girl, but I think this shade.