Pattern: I didn't use a set pattern. I used a stitch pattern from an encylopedia of patterns that I have. I think the stitch pattern is called basket weave.
Yarn: About 2 skeins of some purple yarn that (I believe) 100% llama wool. It had a bit of a scratchy texture, but it knit up nicely.
Started: I can't remember, but I did put it off for a long time and only got it finished a couple of days before it was to be sent off.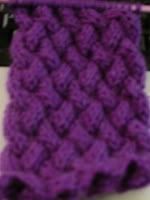 I don't have any other photos of this scarf, but you can see it on the recipients blog at
Maglia
.