I can't believe it's almost 2006. Do the years pass quicker as you get older? I really think it does. I tried to take a nap earlier so I would actually make it to midnight, but my DH forced me out of bed with some snoring. He's not all bad though, look what he got me for my birthday: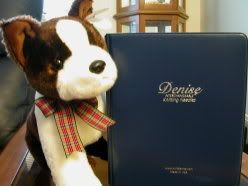 Yep, that's a Denise Interchangeable Needle Set!
I plan on starting my Wave Skirt soon now that I have these. That way I don't have to buy circs in three sizes. But I put them to good use today by putting my most recent project on them. The poncho I'm making for my friend's little girl is back in knitting rotation. I stoppped knitting it for a bit because it was just too much and I was tired most nights. But here it is now:
This photo gives you a good idea of the color.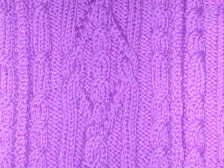 The color is washed out here, but this is a close-up of the cable pattern.
The needles are really good and I love them all ready. I was knitting this piece on straight needles and it was getting heavy and bulky, but these needles make all the difference.
Well I'm going to knit the night away and hopefully I will make it to mightnight.