So it's been a while since I've bothered to blog. Time really does get away from you. I've had a lot to say though, so I had to type up a little thing in Word just so I wouldn't forget what all that was.
I have been knitting and receiving knitting goods. I feel bad that it's taken me this long to get it up, but here is the photo of the scarf I got from my Scarf Me Pal, Rebecca over at Me, myself and I (http://furrworld.blogspot.com/). I've worn it quite a few times since it arrived, what with the weather turning chilly on us. One day we had nice 70 degree temps and then, bam!, in comes the cold.

I have been wearing this ALL the time - it's my favorite scarf at the moment.
We had our first snow last week. Here are some photos. It started last Monday afternoon and I woke up the next morning with 3 inches on my car. That's not much considering other places get much more, but two years in northern Japan made me hate snow. It may be white, fluffy and pretty...but it's also cold and heavy and evil!


This is just from the start of the snow falling...
Now for more knitting...I have a couple of Christmas presents going on right now. One is a kind of large project, a poncho for a friend's little girl. Since I'm knitting her something I thought I'd make her two sisters a little something as well, so they are getting a scarf and hat. The scarf is simple garter stitch, but the yarn is really pretty. The poncho I am making is from Wrap Style and is Cashmere Crossings. I have to make some size adjustments, but otherwise it is going nicely. I don't have photos of the hats and scarves yet, but here is my progress on the poncho. You can't really see the cable detail in this photo: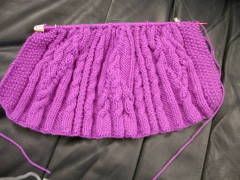 I also picked up some yarn to make myself a little something. The orange yarn is so soft!

And just to end on a fun note, look at my new slippers! Aren't they cute?