Pattern
: Felted Bucket Hat from

Chic Knits
.
Yarn
: Elann Peruvian Highland in a dark green (1 and a bit balls).
Started
: Approximately February 2nd, 2006
Finished
: February 7th, 2006 - including felting and sewing on ribbon.
Comments
: This was actually knitted for my sister's birthday (which was on February 5th) so it's late - it still needs to be mailed! I really enjoyed making this. It knit up quick, although I think my gauge was a little off.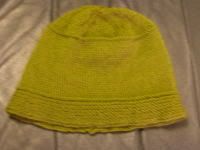 Pre-felting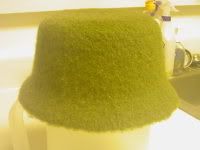 Shaping and Drying. I used a large plastic pitcher to get the right shape. I first tried a large pyrex jug, but it's rounded shape made my hat look like a military helmet with fuzz on it (according to my husband.)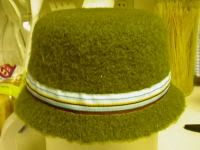 Finished, with a ribbon to give it a bit of flare.