Even though I have exams coming up, I felt the need to cast on for a new project since my skirt was finished. So this is what I'm making: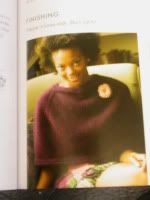 It's the top-down eyelet capelet from
Wrap Style
.
It is actually coming along quite quickly. I think I'm going to crochet a flower to go with it, like the one in the picture, but made out of yarn. I'm thinking of making it out of some orangey colored yarn I have because I think the contrast will be nice.
Here are some photos of my wave skirt. I've worn it once, but forgot to take a photo of it on.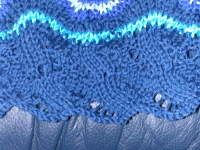 This is the edging I did - not what the pattern called for. I will give more details when I put this project in my completed gallery.
Blocking.
I think I'm going to replace the crocheted i-cord that is used as a belt because it doesn't seem to hold and I feel like I have to keep tightening it. I'm thinking of going to JoAnns Fabrics to look for the perfect ribbing. I'll have to take the skirt with me to get one that matches nicely.