I've started another project. While Mousie Mousie is begging for his/her ears, I decided to cast on for something else. I don't know if anyone else is like this, but I have this running list of things I want to make in my head and it's very jumbled. The other day, while cleaning out my upstairs room, I found a fabric stash and suddenly (!) I want to make little purses etc. I joined Kelli's
Wristlet Swap
, so I know I will get to use some of that fabric, if only a little bit.
Cleaning out my spare room is what got me looking at my yarn stash, which isn't that big compared to some others, but it made me realize I had yarn for projects that I had long forgotten. So below is the start of the Counterpane Accessory pouch from
Handknit Holidays
. If you're interested there is a knit-a-long for this book
here.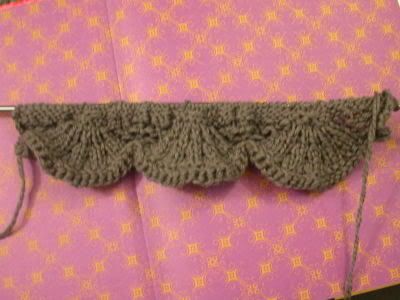 I'm using some yarn I original bought for a warm hat for a friend's husband (sorry J.) It is Knit Picks Palette in Ash, double-stranded.
I also have an FO to post about, but will do that another time.