Here are all the little squares for my Garter-Stitch Blanket...now all I have to do is finish it up. I do have a bit of a gripe about this project. This was supposed to be a simple project, knit the squares and join them together. That is, of course, unless there is a mistake in the pattern.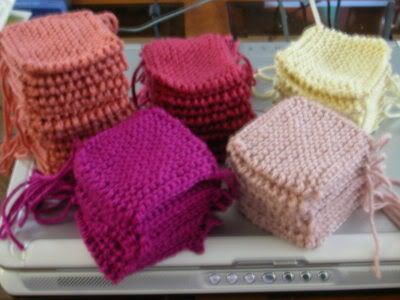 The yarn requirements were "one ball of colors A,B,C,D, and E" but was supposed to say one of each A,B,D and E, and TWO balls of C. I realized I was going to be short when I couldn't get even the required 11 squares from the other colors, let alone the 14 from color C. I just don't see how this kind of mistake could've been made unless nobody bothered to do a protype of the item. Even without leaving long strands (another typo also) I couldn't force 11 squares. So I had to fudge a bit and use what I could.
In other bits and pieces...I've recently created another blog over at typepad that is going to be a column about my experiences as an Australian living in America, so since I'm paying for that I will be slowly moving this blog over there as well. But in the meantime, keep reading my blog and check out
Aussie Girl U.S.A.
as well.