Ahhh...a few days off from work. What will I ever do with myself? Day Off #1 started with me spending a lot of time with this:
When you can't wear the pretty skirt you picked out because it's white and you don't have the appropriate knickers, it's time to do laundry! Luckily, I did not spend my entire day doing this. The good thing about laundry - you can leave it alone and go do something else. So, I also did this: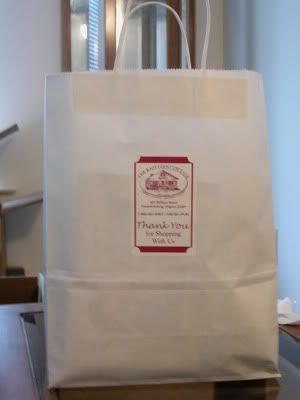 Shopping at my LYS, the
Knitter's Cottage
, to see if I could find some yarn for certain projects I had in mind. Well I didn't find what I was looking for, but here is what I did get: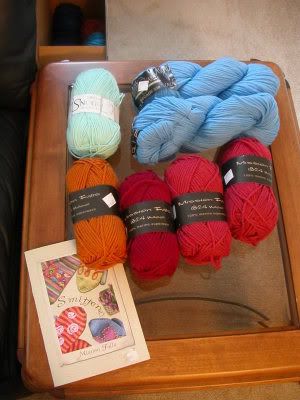 Smitten, Mission Falls pattern book of mittens; MF 1824 Wool to make a pair of mittens in Raspberry (#029), Rhubarb (#534), and Squash (#533); Cascade 220 in Robin Egg Blue (#8905); and one ball of Sirdar Snuggly in Soft Mint (#398) just because it was so darn soft!
The yarn I was looking for was DB Cashmerino Aran, to make DB's Garter Stitch blanket from
Baby Knits for Beginners
. This is going to be a gift for a lady I work with who is due August 8th and is having a little girl. Why did I leave it so late to start something? Well...to be honest, I didn't really know her that well and wasn't planning on knitting anything. Then I went on my trip and when I came back, the two of us have been working together quite a bit. So, having gotten to know her, I know she is worthy of such a gift and would appreciate it.
I was originally looking for this yarn to make
Fetching
so I searched the Knitty boards for sales. I was directed to
Little Knits
by a fellow knitter and found just the colors I was looking for. So I got a couple of balls to make my Fetching and the yarn for the blanket too!