I have been trying to squeeze in some knitting here and there over the past week or two, but it's not easy! I have started, very late into the month, my first sock for Socktoctoberfest. Here it is: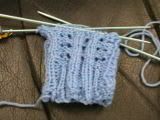 (Click on photo for pattern)
I also finished my scarf for the ISE exchange. I just have to pick up one small thing and I will be able to box everything up and send it on it's way.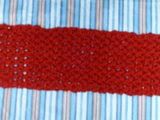 Here it is blocking just to uncurl the sides. I will post specs in my gallery later. It's not as bright as the photo shows, I just wanted to get a close up of the pattern. I followed a generic stitch pattern from Vogue Stitchionary Vol. 1.