I got two packages today, one from my purse swap partner Leslie, and one from my Sockret Pal. This is going to keep me going all week!
First up, the gorgeous purse from Leslie. Made from 100% recycled silk and 100% Aloo, it has cute bamboo handles. I've always wanted a bag kind of like this - and in her note Leslie explained that after reading my blog she knew this would be the purse for me because I seem to be very "worldly." I love that! Thanks Leslie. I do like to travel and have been to a few places. If I didn't have to work and keep up with my responsibilities I think I would be jetsetting off to all kinds of places. Anyway, the purse: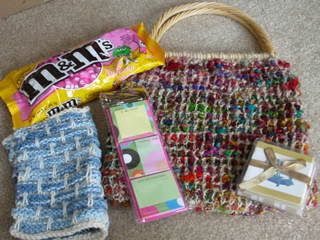 Those are PINK peanut M&Ms in the back. I also got a knitted dish/wash cloth, some cute sticky notes and small notecards.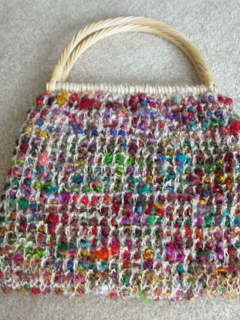 The bag by itself.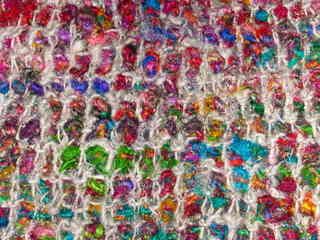 A close-up of all the pretty colors.
I am working on my purse to return to Leslie. Between work and school, it's going a little slower than I'd like, but I think she will like it when it's done.
The second package was from my
Sockret Pal
. I got spoilt with two skeins of Cascade in a lovely red; a book -
Christmas Stockings
, a tin of lovely chocolate cocoa, which will come in handy soon I'm sure, two sets of DPNs in size 2 and 4, and a cute little charm that says 'I Love 2 Knit'. Here is everything: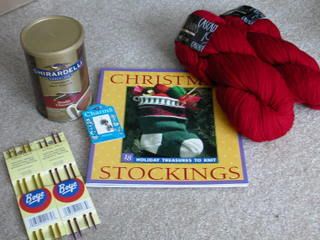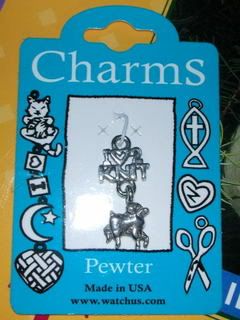 A close-up of the cute charm!