Yeah! The fun has started. If you don't know what I'm talking about, go
here
.
I'm participating in SP9 and Sockret Pal exchanges and both questionnaires for these ask for feet/sock measurements. I've been pretty lazy about doing this, but mostly it's because I had no idea which measurements were really important. So, Lollygirl from the above link has posted the picture below on her blog because another knitter is doing research for a book. I'm borrowing it and putting it here for anyone who's interested and partly just for myself.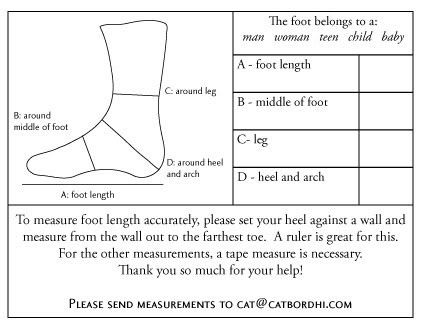 My measurements:
A.
approximately 9 inches
B.
8 inches
C.
7 1/4 inches
D.
approximately 12 inches
Oh! I also joined
this
KAL as well.