On Monday, just before I was heading out the door for an appointment, I received TWO packages. One was from my Sockret Pal and one from my SP9 (it's like they're in synch with each other.)
So from my Sockret Pal: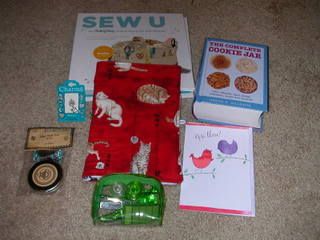 I got SEW-U, a book from my wishlist; a book filled with cookie recipes (the one thing I do cook); the little green pouch has a stapler etc in it - very cute; a little charm to match my other one that says "I love to Sew"; glass head pins, and a needle roll for my DPNs.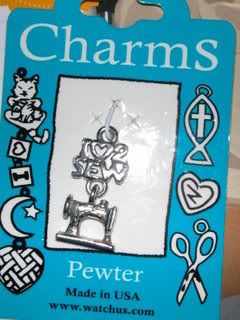 A close-up of the charm.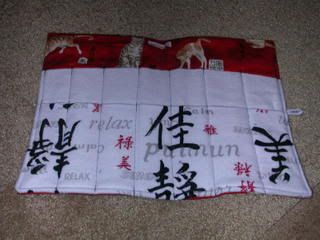 The inside of the needle roll. The red fabric has cats and dogs on it and the inside has Japanese/Asian symbols.
Now on to my wonderful SP9 package. I am so lucky to be getting so spoilt!!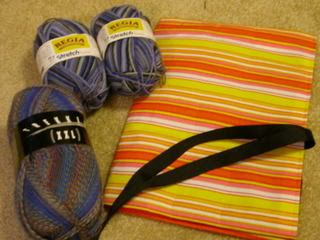 I got one skein of Trekking, which I've been hearing a lot about and want to try; two skeins of Regia sock yarn in a lovely blue colorway; and ANOTHER needle roll!!! Yeah, this will definitely come in handy.
So this week my book collection and my sock stash were both increased without me spending a penny. :)
Thank you so much SP9 and Sockret Pal. I apologize for not posting it to my blog until today, but I have exams coming up and it's a little crazy around here.