I have been on a cleaning bug for the past couple of days. I've been clearing out clutter, organizing and the like. I finally organized my yarn into some sort of order and found it a permanent home in my house (I've been moving it around and playing with different storage options up until now.)
Looking at how much yarn I have (and I know it's not that bad compared to some), I decided to go ahead and join the
Stash-A-Long
. My problem is that I buy the yarn to make a certain project and then never seem to get around to making it...and then forgetting what I bought it for. So to kick off, here is what I have and below the photos are my goals for 2007.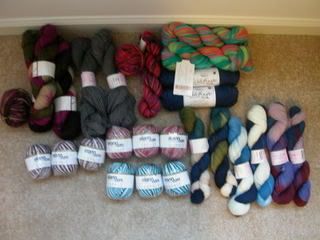 Enough sock yarn to make 12 pairs of socks for me (so about 24+ skeins, with two skeins per pair)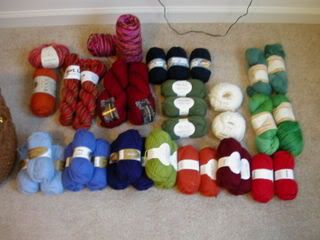 This is just a bunch of multiple balls/skeins of various stuff I've picked up along the way.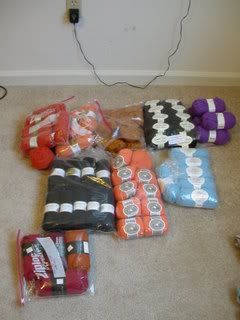 The big guns! This is yarn I have 5 or more balls of and picked up for a specific project, including the Ribbi Cardi I've never gotten around to knitting.
What I want (hope) to achieve this year:
1. Use half the sock yarn by the end of 2007 and not buy anymore sock yarn this year at all. **Gifts from secret pals and the like do not count.
2. Knit Ribbi Cardi, Dizzy Mitts, and at least ONE more large project to get rid of one of these bags of yarn.
3. To use some of the odd balls of yarn to do one-skein or small projects. So my goal is to knit 10 small projects this year. Since in the second photo there are 17 bunchs of yarn, that should leave me with 7 of them.