I joined the Stash-a-long so I would actually use the yarn in my stash and now it's time for me to go on another kind of diet for my other passion - BOOKS. I have accumulated quite a few books that have not been read yet and I keep buying more! So, I am going to sort through them all and make a nice pile of "to-be-read" and I'm going to photograph them and then set my goals here on this blog. I don't have a lot of time to read now, but I will try. As a political scientist I have a lot of non-fiction to read.
Here are my "to-be-read" piles (sorry for the blurry shots):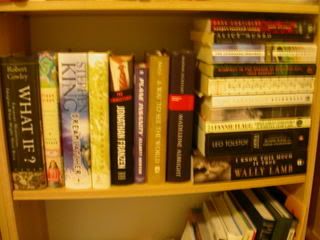 I have a nice mix of books here, fiction & non-fiction, at least one biography. There are a couple of nice thick fiction books to get through.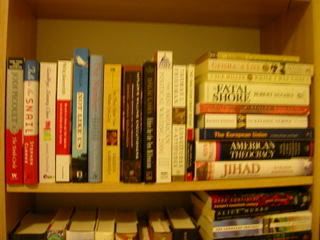 There are 39 books on these two shelves, plus the one book on my nightstand right now - so that's 40! We'll see how I do.
Exceptions:
1. If I get a gift card etc, it goes without saying I can buy books with it.
2. I need to get a GRE study guide, so that is educational.