I got my last parcel from my Sockret Pal last week. I've been sick so I haven't had a chance to blog about it until now. But anyway, my wonderful pal was
Shelly
. This last package was just what I needed to cheer me up. Look at all the goodies!
In the box:
2 photo frames
1 pair of embroidery scissors
1 set of crochet needles
1 pair of handknit socks
3 skeins of sock yarn
One skein of Opal sock yarn in Magic (I think this is the colorway); 1 skein of yarn from Jitterbug in Blue Parrot; and 1 skein of Mountain Colors hand-painted yarn in Firestorm.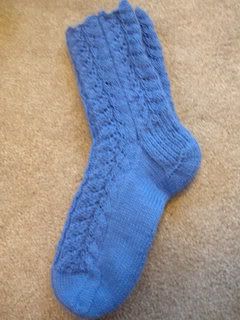 The lovely socks. They fit perfectly! Thanks, Shelly.